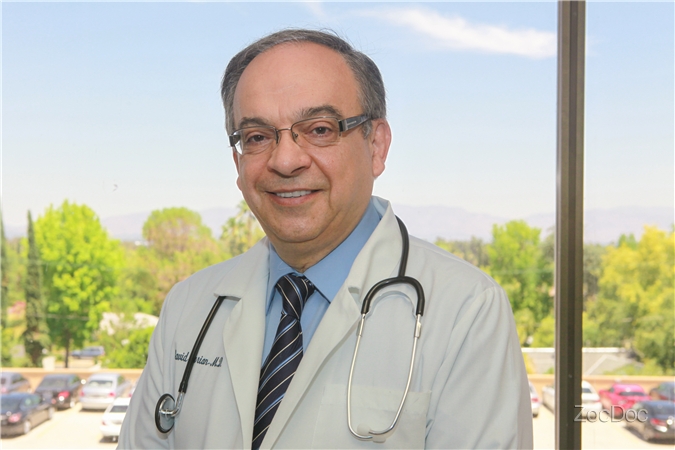 Dr. David Zarian, MD – Internist, is a family doctor in Encino, CA who also provides immigration & citizenship medical services to families in Encino, CA and surrounding areas including Studio City, Sherman Oaks, Tarzana, Van Nuys, Reseda & more.
David Zarian is a diligent and engaging physician specializing in internal medicine. He completed both his internship and residency programs in internal medicine at the Kingsbrook Jewish Medical Center in New York. Currently, Dr. Zarian is based in Encino, CA. Originally from Iran, Dr. Zarian attended the Shahid Beheshti University of Medical Sciences, where he earned his medical degree.
In addition to diagnosing and treating illness, Dr. Zarian offers a range of acute, chronic, and preventative medical care services. He is sensitive to the uniqueness of each patient's complaint and adapts his consultations and treatment options appropriately to accommodate individual needs and concerns.
Qualifications and Experience
Dr. Zarian is certified by the American Board of Internal Medicine. He is also fluent in English, Spanish, and Farsi, which makes him accessible to patients from a variety of cultural backgrounds.
Dr. Zarian and his team are committed to providing individualized care for each patient, as we understand every patient requires different needs.
As a patient you can expect:
To be treated respectfully, and with care.

To be seen at your scheduled time without unnecessary waiting times.

To have anything explained in detail that you do not fully understand.

To be comfortable throughout the duration of your appointment.
Please feel free to call the office of Dr. David Zarian, MD – Internist if you have any questions about our doctor, our staff, or the services we offer. Thank you for showing interest in David Zarian, MD – Internist in Encino, CA.