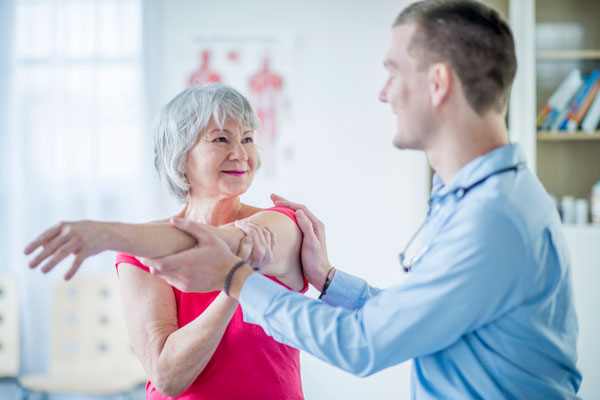 Having the best Encino physical therapist can help you develop, restore, and maintain optimal functional and movement ability to a body that has been weakened by disease, injury, age, or environmental factors.
Working with your physical therapist involves identifying and optimizing your movement potential by developing various muscle groups and joints in the body, and ultimately improving your quality of life for the purposes of rehabilitation, prevention, promotion, or treatment/intervention.
Working with Dr. David Zarian in Encino can help to improve your movement and reduce or eliminate any physical limitations that interfere with your ability to live a normal life. Our team can help you regain your ability to walk on a flat surface, climb stairs, and even run eventually by maximizing your performance, strength, and endurance, and maintaining your balance, ease, and comfort throughout the day.
Who needs a Encino Physical Therapist?
Physical therapy can be recommended to an elderly person or other individual to:
Alleviate pain, sprain, stress, and strain
Promote wellness
Prevent injury
Keep chronic injuries from reoccurring
Provide relief following injury or surgery
Improve the wellbeing of patients with chest infections or chronic lung disease
Physical therapy in Encino can also be provided for impairments resulting from conditions such as stroke, spinal cord injury, brain injury, neuromuscular/neurovascular disorders, orthopedic conditions, and cardiac disorders, among others.
How physical therapy works
Our physical therapy programs encompass the physical, emotional, psychological, and social well being of the patient. This requires the interaction of different parties, besides the client and Dr. Zarian, including caregivers, families, other health professionals, and communities in order to assess the movement potential of the client and develop goals to improve the client's quality of life.
Every client who comes to us receives a comprehensive assessment to identify your functional limitations and impairments. Dr. Zarian then works with you and your team to educate you on your condition, develop a plan of care, and discuss the expected outcomes. We then make use of a variety of treatment modalities, manual techniques, educational programs, and advanced technologies to help you achieve specific goals in your rehabilitation.
Our physical therapy programs in Encino are personalized to either an inpatient or outpatient program, with the patient's objectives and goals as the central focus. We emphasize patient participation in their rehabilitation process, and try to reinforce it throughout the treatment sessions. This is a critical component for the success of your personalized rehabilitation program.
SEE WHY DR. ZARIAN IS THE BEST ENCINO PHYSICAL THERAPIST
Read Dari A.'s review of David Zarian, MD on Yelp
Quality Personal Care in Encino
Physical therapy is a highly personal service, and having access to a local physical therapist can make all the difference. Best Encino Physical therapist, Dr. David Zarian provide the finest care possible based on strict guidelines that any certified physical therapy clinic should follow, including continuing education to maintain first-rate standards of patient care. Dr. David Zarian takes the recovery of all his patients seriously, and looks forward to helping you get better.